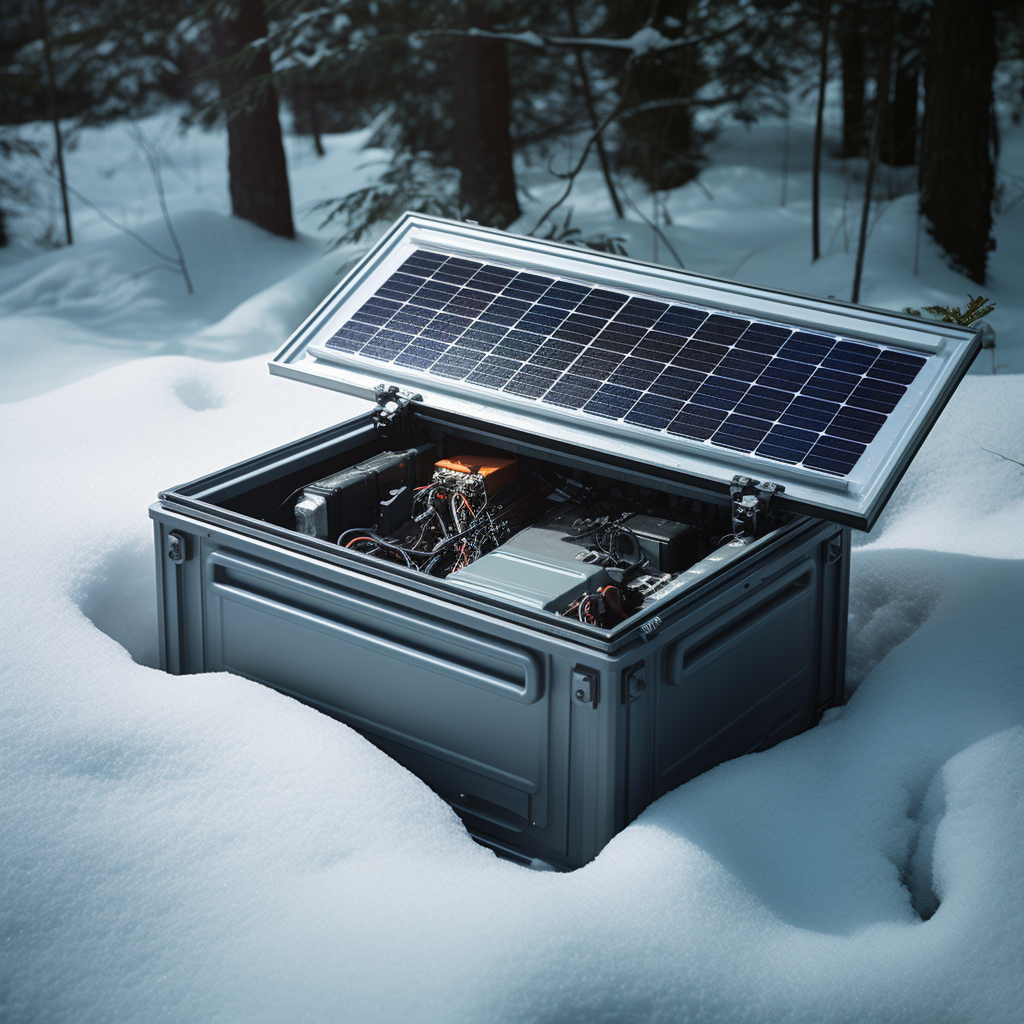 Winterizing Solar Batteries: A Comprehensive Guide to Maintaining Battery Warmth
The advent of solar energy as a renewable source of power has revolutionized the way we utilize energy. As an abundant, clean, and green energy source, solar power has provided an opportunity to move away from fossil fuels, thereby helping to reduce carbon footprints and combat climate change.
One major component of solar energy systems is the solar battery - a device that stores the sun's energy to be used when the sun is not shining, like during nighttime or on cloudy days. However, the efficiency of these batteries, especially their capacity to hold a charge, can be significantly affected by cold winter temperatures.
As we delve into this article, we'll explore the unique challenges winter poses to solar batteries and provide practical solutions on how to keep them warm and functional. To ensure that your solar energy system performs optimally all year round, understanding these strategies is essential.
Keeping solar batteries warm during the winter involves understanding their composition, insulation methods, use of temperature sensors, and importance of regular maintenance. These elements play a critical role in maintaining the longevity and efficiency of your solar battery, ultimately enabling a more sustainable energy solution.
Understanding Solar Batteries: A Brief Overview
If we want to effectively maintain the warmth of solar batteries during winter, a fundamental understanding of what they are and how they function is crucial. Solar batteries, also known as photovoltaic storage, play a pivotal role in a solar power system, storing excess energy produced by the solar panels for later use.
There are several types of solar batteries, but lead-acid and lithium-ion are the most commonly used. Lead-acid batteries have been around for a long time and are often more affordable. However, lithium-ion batteries are gaining popularity due to their longer lifespan, higher energy density, and greater efficiency.
Regardless of the type, all solar batteries function through a chemical reaction that stores energy from the sun and converts it into electricity. This stored power can then be used when the solar panels aren't producing energy, like during the night or on cloudy, sunless days.
Batteries work best when operating at 'room temperature,' around 20-25°C (68-77°F). When temperatures fall below this range, the chemical reaction within the batteries slows down, reducing their capacity to hold a charge and deliver energy. This is why keeping solar batteries warm during the winter is so essential.
In our subsequent chapters, we'll delve into the specific challenges that cold winter weather poses to solar batteries and discuss practical strategies for keeping them warm.
Challenges Faced by Solar Batteries in Winter
Winter months can pose a unique set of challenges for solar battery systems. As days become shorter and nights longer, solar panels have less sunlight to convert into electricity. As a result, solar batteries have to work harder, storing more energy to compensate for these shorter daylight hours.
One of the primary issues faced by solar batteries in winter is the decrease in efficiency due to low temperatures. As earlier mentioned, solar batteries work best at 'room temperature,' and when the temperature drops, the chemical reactions that generate electricity slow down. This reduced activity can lead to a decrease in the battery's capacity and energy output.
Another issue is the risk of damage. Extreme cold can cause certain types of batteries, particularly lead-acid ones, to freeze. When the electrolyte inside a battery freezes, it can expand and cause irreversible damage to the battery's internal components.
Battery lifespan can also be negatively impacted by cold conditions. Operating a battery in cold weather can cause it to discharge more quickly, leading to more frequent charging and discharging cycles. This increased cycling can wear out a battery more quickly, reducing its overall lifespan.
Understanding these challenges is the first step in learning how to effectively maintain solar batteries in winter. In the following chapters, we will explore various techniques and strategies to keep solar batteries warm and efficient during the colder months.
Techniques to Keep Solar Batteries Warm in Winter
Keeping solar batteries warm and efficient during the winter months requires proactive measures. Here are a few techniques that can help:
Battery Enclosure: One of the most common methods of protecting solar batteries from extreme cold is by housing them in an insulated enclosure. These specialized enclosures or battery boxes are designed to protect the batteries from the environment, helping to maintain a stable internal temperature.

Thermal Wraps and Heating Pads: Thermal wraps or battery heating pads can be used to provide direct heat to the battery. These devices can be wrapped around or placed underneath the battery, providing a consistent heat source that can help maintain the battery's optimal operating temperature.

Use of Temperature-Resistant Batteries: Some batteries are designed to operate effectively in a wider range of temperatures. For example, lithium iron phosphate (LiFePO4) batteries can operate in temperatures as low as -20°C (-4°F). If you live in a region with harsh winters, investing in these types of batteries can be beneficial.

Heat Recovery Systems: Some advanced solar power systems include heat recovery systems. These systems capture waste heat from various processes (like inverter operation) and use it to warm the battery enclosure.

Location of the Battery: If possible, consider placing the battery bank indoors or in a temperature-controlled room. This can greatly help in maintaining a stable operating temperature for the batteries.
It's important to remember that these are general strategies and the specific methods you use may depend on the type of battery, the severity of your winter weather, and other factors related to your particular solar power system.
The Role of Insulation in Maintaining Battery Warmth
Insulation plays an integral role in keeping solar batteries warm during the winter. It provides a barrier between the cold external environment and the battery, helping to retain heat and maintain an optimal operating temperature.
Insulation for solar batteries can be achieved in various ways:
Insulated Battery Enclosures: These are specially designed boxes or cabinets with insulation properties. They provide a controlled environment for the batteries, protecting them from the harsh external conditions. When choosing a battery enclosure, it's important to consider factors like the insulation rating, waterproofing, and the ability to allow for necessary ventilation.

Thermal Wraps and Blankets: Insulating thermal wraps or blankets can be used to provide an additional layer of protection. These products are typically wrapped around the battery, helping to trap heat. Some thermal wraps are electrically heated, providing active warming when the temperature drops.

Insulation of the Battery Room: If your batteries are housed in a separate room or shed, insulating this space can be very beneficial. This might involve installing insulation in the walls, ceiling, and floor, and ensuring any doors or windows are properly sealed to prevent drafts.

Using Insulating Materials: Various insulating materials can also be used, such as foam board, fiberglass, or spray foam. These materials can be installed around the battery or the battery enclosure to provide an extra layer of thermal protection.
Remember, while insulation is critical, it's also important to ensure adequate ventilation for your batteries. Batteries can generate heat during charging and discharging, and without proper ventilation, this could lead to overheating, which is also detrimental to battery performance and lifespan.
Incorporating Battery Temperature Sensors for Effective Heat Management
Temperature management is crucial for the optimal performance and longevity of solar batteries, and this is where battery temperature sensors come into play. These devices monitor and regulate the temperature of your batteries, playing a pivotal role in managing their health during cold winter months.
Battery temperature sensors (BTS) are typically connected to the battery and to the charge controller or inverter. They measure the temperature of the battery and send this information to the controller or inverter. The charging system then adjusts the charge voltage based on the battery's temperature.
Here's why this is important:
Prevention of Overcharging: When a battery gets cold, its internal resistance can increase. This means that it can accept a higher charge voltage without getting overcharged. A BTS can detect this temperature drop and allow the charging system to increase the voltage, ensuring the battery gets fully charged.

Avoidance of Undercharging: Conversely, if a battery is too warm, it might get overcharged if the charge voltage is too high. A BTS can help lower the charge voltage to prevent this.

Damage Prevention: By monitoring battery temperature, a BTS can help prevent damage caused by extreme temperatures. If the temperature drops too low, the BTS can alert the system (and you) to take protective measures.
By incorporating a battery temperature sensor into your solar system, you can effectively manage the warmth of your solar batteries during winter, ensuring they operate efficiently and last longer.
The Importance of Regular Maintenance and Checks
Regular maintenance and checks are essential in ensuring the proper functioning and warmth of solar batteries during winter. Here's why:
Early Detection of Problems: Regular checks can help identify issues before they escalate. For instance, if a battery's charge seems to be depleting more quickly than usual, it could be a sign that the battery is struggling in the cold and needs additional insulation or heating.

Battery Health: Routine maintenance, such as checking the state of charge and cleaning the battery terminals, can help keep batteries in good working condition. For flooded lead-acid batteries, it's also important to check the electrolyte level and top it off with distilled water if necessary.

Efficiency: Regular checks can help ensure your batteries are working at their highest efficiency. If a battery isn't charging fully or is discharging too quickly, it might not be providing all the power your solar system could be producing.

Longevity: Over time, poorly maintained batteries can suffer from issues like sulfation or stratification, which can reduce their lifespan. Regular maintenance can help prevent these issues and ensure your batteries last as long as possible.
Regular maintenance and checks should be a part of your overall strategy to keep your solar batteries warm and functioning optimally during the winter. It's also important to follow any specific maintenance instructions provided by the battery manufacturer.
Conclusion
As we've learned throughout this guide, keeping solar batteries warm during winter requires a multifaceted approach. From understanding the basic functioning of solar batteries to implementing strategies like insulation and temperature monitoring, there are several ways to maintain optimal battery performance during the cold months.
Remember, every solar power system is unique, and what works best for one might not work as well for another. Always consider the specific needs and conditions of your system, your geographical location, and the severity of your winters when planning your approach.
By taking these proactive steps, you can ensure that your solar batteries remain efficient, healthy, and warm, allowing you to enjoy the benefits of solar power even in the coldest months of the year.