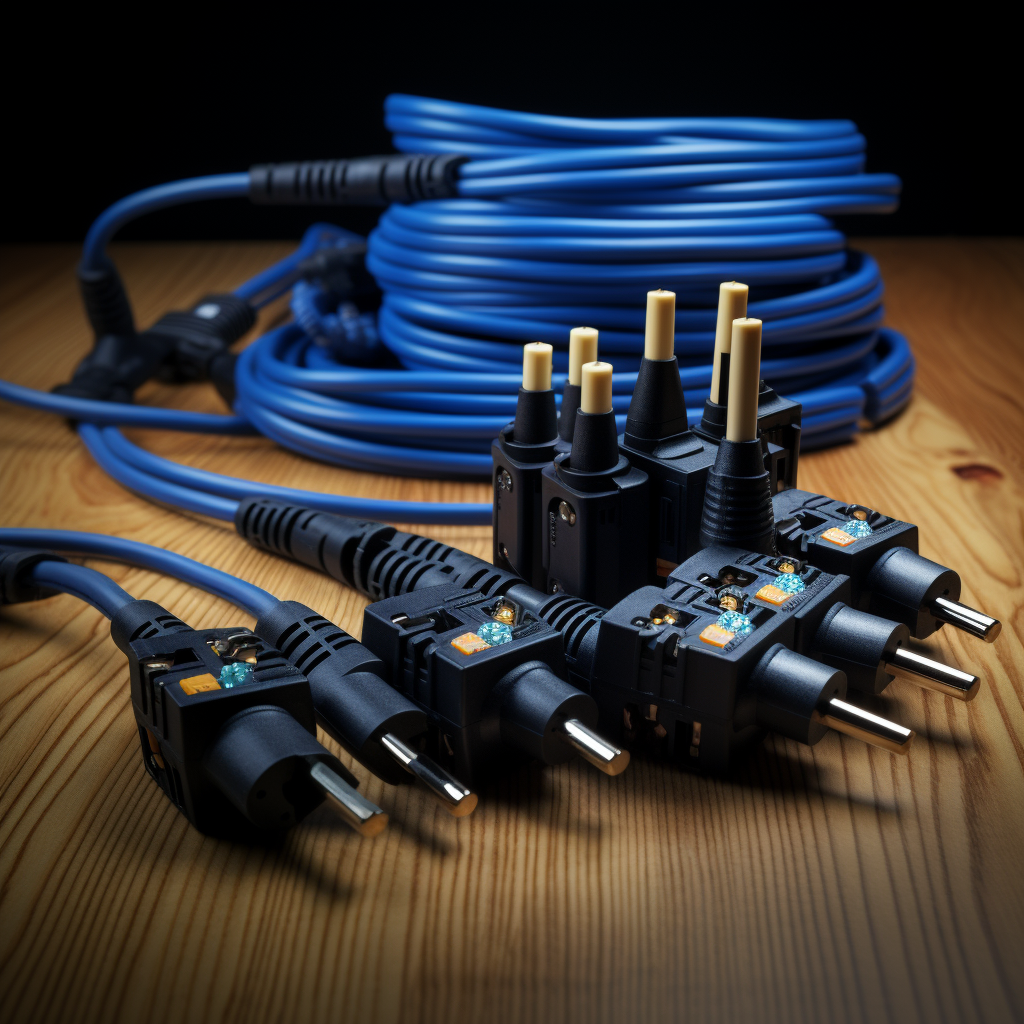 Mastering AC Adapter Shipments to the EU: A Comprehensive Guide
Shipping products internationally can be a labyrinthine endeavor, fraught with regulations, standards, and potential pitfalls. It becomes even more intricate when the products in question are electronic accessories like AC Adapters. For businesses and individuals eyeing the European Union (EU) market or even for personal shipments, understanding the nuances of shipping such a critical component is paramount.

The European Union, consisting of 27 member countries, has its own set of standards and regulations when it comes to importing electronic goods. Given the integral role that AC Adapters play in the functioning of many electronic devices, it's no wonder that they're subject to stringent regulations. From ensuring the right voltage to abiding by plug compatibility standards, shipping AC Adapters to the EU is more than just wrapping it up and posting.

In this guide, we will navigate the intricate waters of shipping AC Adapters to the EU, helping you understand not just the technicalities but also the importance of each decision point. By the end, you'll be equipped with the knowledge to send AC Adapters to any EU destination with confidence and compliance.

Whether you're a retailer looking to expand your European market presence or an individual sending a personal electronic gift, the subsequent chapters will provide a thorough and comprehensive insight into everything you need to know.
What is an AC Adapter?
An AC Adapter, commonly referred to as a power adapter or charger, is an essential electronic device that provides a specific voltage and current to power or charge another electronic device. They are often used for laptops, smartphones, and countless other electronic gadgets. The primary function of an AC Adapter is to convert the alternating current (AC) from a wall outlet into a consistent direct current (DC) for the device it's powering.

The basic components of an AC Adapter include a transformer, which changes the voltage; a rectifier, which converts AC to DC; and a regulator, ensuring a consistent and safe voltage output. The exact specifications and output can vary based on the needs of the connected device.

Understanding the function and importance of an AC Adapter is crucial. When shipping to the EU, it's not just about ensuring the adapter arrives in one piece. It's about ensuring that the device can function safely and effectively in its new European home.
Shipping Standards in the EU: A Comprehensive Look
The European Union enforces strict standards for importing goods, and electronic items like AC Adapters are no exception. Here are the primary considerations:

CE Marking: The CE mark is a certification mark that indicates conformity with health, safety, and environmental protection standards for products sold within the European Economic Area (EEA). All electronic goods, including AC Adapters, must have this marking to be legally sold in the EU.

RoHS Compliance: The Restriction of Hazardous Substances Directive restricts the use of specific hazardous materials found in electrical and electronic products. Any AC Adapter you're shipping to the EU should adhere to this directive.

WEEE Directive: The Waste Electrical and Electronic Equipment Directive imposes the responsibility for the disposal of waste electrical and electronic equipment on the manufacturers. If you're a manufacturer or a distributor, you need to be aware of this when shipping to the EU.

Shipping standards aren't just about product compliance. They encompass packaging requirements, import duties, and handling protocols, all designed to protect both European consumers and the environment.
The Importance of Voltage and Plug Compatibility
European countries predominantly use a voltage range of 220-240V, differing from countries like the U.S., which use 110-120V. Before shipping an AC Adapter to the EU, it's essential to ensure that it's compatible with this voltage range.

Plug shapes and types also vary across the globe. The EU primarily uses Type C, E, and F plugs, each with their unique pin configurations. Shipping an AC Adapter with a non-compatible plug without an adapter can lead to frustrated end-users.

Moreover, it's worth noting that not all EU countries follow the same standards. For instance, the UK uses a Type G plug, making it distinct from its continental neighbors. Being attentive to these differences ensures that your shipped AC Adapter is immediately usable without further modifications.
Shipping Restrictions and Import Duties
Shipping electronics like AC Adapters to the EU requires awareness of potential restrictions and import duties.


Customs Declarations: All items shipped to the EU must include a customs declaration, indicating the nature, value, and quantity of the goods. This document helps customs authorities ascertain whether the product is admissible and what duties or taxes are applicable.
VAT (Value Added Tax): The EU imposes a VAT on goods and services. This tax rate varies among member states, typically ranging from 17% to 27%. It's essential to understand the VAT rate for the specific destination country to estimate the total cost of shipping an AC Adapter.
Import Duties: On top of VAT, import duties might apply to electronic goods. The rate is determined by the product's classification under the EU's Combined Nomenclature (CN) system.
Special Restrictions: Occasionally, certain products may face additional restrictions or requirements. Regularly consulting the EU's TARIC database can provide up-to-date information on all such measures.
Packaging Best Practices for AC Adapters
Ensuring the AC Adapter arrives safely is as crucial as ensuring its technical compatibility. Adopting best practices in packaging can make all the difference:


Bubble Wrap: Envelop the AC Adapter in bubble wrap, providing a cushion against potential shocks during transit.
Box Selection: Use a sturdy box that snugly fits the wrapped adapter. Filling empty spaces with foam or airbags can prevent the product from moving around.
Sealing: Ensure the box is sealed securely. Reinforce it with packing tape, particularly on the edges.
Labeling: Clearly label the package with the destination address and, if possible, include a return address. Marking the box as "fragile" can also prompt careful handling.
Certified Retailers and Trusted Shipping Partners
Aligning with trusted partners can make the shipping process seamless:


Certified Retailers: If sourcing AC Adapters for resale in the EU, partnering with certified retailers ensures that the products already comply with EU standards, mitigating potential legal complications.
Reputable Shipping Companies: Employing trusted shipping partners can expedite the process. Companies like DHL, UPS, and FedEx often offer detailed guidance on international shipping to the EU, helping you navigate documentation and regulations.
A Brief on EU Warranty and Return Policies
Selling to the EU means adhering to its consumer protection laws:


Two-Year Warranty: By law, electronic goods sold in the EU come with a two-year warranty. If an AC Adapter is found to be faulty within this period, the seller must repair, replace, or refund it.
Right to Return: Consumers in the EU have a 14-day window to return online purchases without providing a reason, though exceptions exist. This "cooling-off" period starts from the day they receive the product.
Common FAQs When Shipping AC Adapters to the EU
Navigating the intricate landscape of international shipping often leads to many questions. Here are some frequently asked questions, with their answers, related to shipping AC Adapters to the EU:

Q: Can I ship used AC Adapters to the EU?

A: Yes, but they must still comply with EU standards, including the CE marking. Moreover, the customs declaration should clearly indicate that the item is used, which might influence import duties or VAT calculations.
Q: How do I handle returns from EU customers?

A: The EU's consumer protection laws offer a 14-day "cooling-off" period for online purchases. Sellers should have a clear return policy in place and ensure they're equipped to handle international returns.
Q: What if the AC Adapter has a built-in capability to handle both 110V and 240V?

A: Many modern AC Adapters can handle a range of input voltages. If so, ensure this information is clearly labeled on the product, making it user-friendly for European consumers.
Q: Are there additional certifications needed for AC Adapters with wireless capabilities?

A: Yes, AC Adapters with integrated wireless functionalities (like wireless charging) may require additional certifications, such as the Radio Equipment Directive (RED) compliance in the EU.